Usually I rotate the entries, but this entry was too epic to simply pass so, without further ado I present to you Takeru Sato (Ryoutarou Nogami/Kamen Rider Den-O)'s graduation.
Takeru Sato
(Ryoutarou Nogami/Kamen Rider Den O)
March 8th, 2007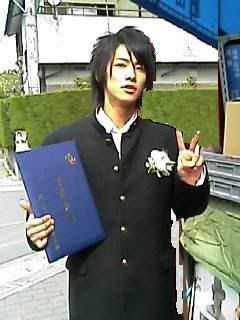 There's been a lot of hellos and goodbyes.
Also, this hope that keeps beating within my chest.
When will be the next time I'll meet everyone again? 1 year from now? 2 years from now? Long from now, even longer from now I doubt that I'll be seeing these people again. But, meeting these people everyday has become natural to me.
My teacher would get mad at me for sleeping during class. During lunch we would all meet together to eat from our lunch boxes. During recess and after school was when I would really say some stupid things. Before a test I would always get to school late because of studying for it. Then when the test was over we we all get together and eat. But now that won't be happening anymore.
Often I would say " Iya~ I won't feel anything yet. But when I don't have to go to school anymore, its probably going to feel kinda empty. "
But I never expected it.
Now those sentiments are real; its (school) no longer happening . Its lonely. School was really fun.
All the people I made friends with. I have to realistically consider it'll be difficult to gather everyone again, though I will be happy that if they haven't changed (over the years).
Now, everyone, we have to go on our own roads. I wish everyone to be happy. Iya~ really, be happy. Youthful. Everyone, do your best ☆
On March 7th, I have graduated from High School.